While you may think that your waiver wire is picked clean of any possible talent we here at Fantasy Boyz sports think you should take another glance for Christ's sake.
After some breakout performances in week 3 from some little known players you may have some roster decisions to make......
Running Backs:
Alfonso Smith -
With Beanie Wells nursing a bum shoulder Smith carried the load with 17 carries for 54 yards.
While that doesn't blow anyone away running backs are hard to find.
Worth a look in larger leagues (Especially for Wells owners)
Demarco Murray -
Sure Felix Jones finally busted out Monday and Murray was again a non factor but maybe you went beddy bye before noticing Felix again banged up his shoulder.
If he is unable to go this week look for Murray's carries to be in the double digits.
Worth a look in larger leagues (Especially for Jones owners)
Hunter could get more carries behind the brittle Gore as the season wears on
Kendall Hunter -
With Frank Gore playing on a creaky ankle Murray was able to hit pay-dirt for the first time in his young career.
Word out of San Fran is that Hunter's role could increase as the year moves along.
He could be a sleeper pickup that pays big dividends later this season
Worth a look in larger leagues (Especially for Gore owners)
Wide Receivers:
Torrey Smith
- With 5 grabs for 152 yards and 3 TDs Smith has burst onto the fantasy scene.
He appears to possibly be the deep threat the Ravens thought they had acquired in Lee Evans.
It is hard to say how this will all play out as Evans should be back in the lineup sooner than later.
Suffice it to say however that Smith is going to be flying off the free agency shelves this week.
Should be owned in larger leagues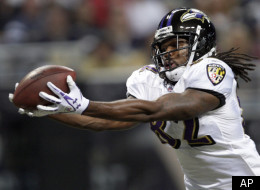 Smith shown pulling in one of his 3 TDs Sunday
Victor Cruz
- Another young receiver that had their first big game of their career this preseason wonder of years past finally did it in a regular season game.
The fantasy prospective for Cruz however isn't quite as sunny as Smith's.
Manningham should be back this week and Cruz's targets will taper off dramatically.
Keep an eye on in larger leagues