By Sean Tierney, Fantasy Boyz consultant
Here we go kids…… we've already seen who Bystrak thinks will fall on their face but who's gunna rise up??
Here's ten guys I think will be in line for a big fantasy year and maybe a nice pay raise in 2012……..
10. Zach Miller – now here is a guy that was a part of an interesting offense. Sometimes the raiders looked like they had it…..annnnnnnnd most of the time they didn't. but he was one player that was an always reliable target for whoever was throwing the ball. Now he goes to an offense that is basically a college style offense and takes over the starting job from John Carlson (who was announced today out for the season). With big Mike Williams on one side and the newly acquired Sidney Rice on the other Miller will give the laughable NFC west defenses all they can handle down the middle. Look for him to build on his career high in all categories
Still has a shitty QB but should continue to produce
9.
Jordan Shipley –
for a guy that was on a mediocre offense (and still is) he hauled in 52 receptions and was the go to receiver on 3
rd
down during his rookie campaign. With Ocho gone and AJ Green in the mix look for Shipley to act as AJ's "Robin". He's poised to have a big sophomore year.
Crap offense but not too much competition for targets
8.
Chad Ochocinco
-- how does Ocho make this list you ask… (see Randy Moss pre-Patriots). For someone that's a six time pro-bowler you would think "he's gotta put up solid numbers every year". The reality is that he hasn't eclipsed the 90 reception mark since 2007 and has only one 1,000 yard season in the last 3 years. After a dismal year with the Raiders in '06, Randy Moss went to the Pats and had a record setting year. I don't think Ocho breaks the 23 TD mark but look for him and Brady to mesh well and get back into double digit touchdowns.
OCHO will no longer be Stinko after getting out of Cincy
7.
Felix Jones
– talk about a guy stuck in a crowded backfield. He was the second fiddle to Marion Barber and at times Tashard Choice for his brief time in the NFL. With Barber off to the windy city it's time for Jones to take the reins and shine as the premier back in big D.
This burner finally getting the touches
6.
Steve Breaston –
Breaston has normally been a solid 3
rd
WR option and played third fiddle to Boldin and Fitz in Arizona for a few years. He had a career high 77 catches in '08 but only took 3 of them for TD's. going into an offense that has Jamal Charles, Thomas Jones, Dwayne Bowe, Tony Moeaki and Dexter McCluster he should see plenty of single coverage opposite Bowe. Look for him to crack the goal line more than double his career high.
The always solid wide out should see more balls his way
5.
Dustin Keller –
He's been dirty Sanchez's safety valve for the past two seasons. Reliable hands and always seems to get the first downs. He's had consistent seasons of 50 catches and nearly went for 700 yards last year. with Plax in the mix now that will move the safety over to either him or Santonio freeing up the middle for Keller to wreak havoc. Look for him to surpass his career highs in catches, yards and TD's.
Dirty Sanchez's favorite target
4.
Tim Hightower --
Hightower was a TD machine in his rookie year of 08' putting up 10 scores but mainly as a goal line back. pretty much the same story in 09' when he had 8. The scores were always there but the yards were atrocious. He's been traded to Washington and now runs for a guy that knows a little bit about how to use a running back. It's his job to lose and so far this pre-season he has shined to the tune of 25 carries, 170 yards and 2 TD's. Sure it's the pre-season but it could be a sign of big things to come.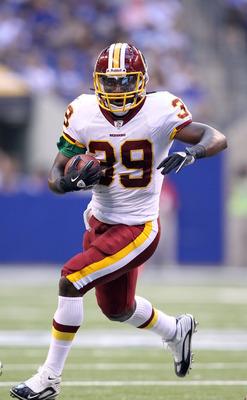 Dreds looking tighter than ever in DC
3. Jimmy Graham -- when you look at the New Orleans offense, there are a handful of options that could have a break out year. Graham is interesting though. He's in his sophomore year out of the U. 6'6 and a slim 260lbs. he runs like a wide receiver and plays like an offensive lineman. In his rookie season he put up 31 grabs, 356 yards and 5 TD's in an offense that likes to spread the ball around to any one of their TE's. With Shockey out of the picture that leaves he and David Thomas. Thomas is more of a stay at home run block guy where Graham will stretch the middle and shake off a LB for a big gain. Look for Brees to find him often this year.
Look for this lanky son of a bitch to tear it up!!
2.
Lee Evans
– Being a Buffalonian, it's always been tough to see this guy struggle. Now keeping in mind that he's never really had a good QB to deliver him the ball (not since Drew Bledsoe at least) or a receiver opposite him to take the pressure off (he took the pressure off Stevie Johnson last year……. see top 10 flops for him). He broke 80 catches only once and 1,000 yards only twice in 7 years. He's never scored double digit TD's either. Going to Baltimore and starting opposite Anquan Boldin is the perfect medicine for his career. He'll be going to a winning team with a quarterback who just keeps getting better. I'm pulling for him this year……..look for his long due breakout campaign.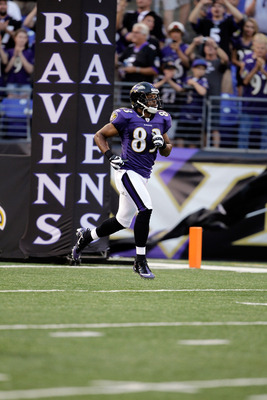 Sad to see Lee leave the B Lo but could mean great things for his career
1.
Matthew Stafford
-- undoubtedly everyone's #1 for 2011. since being drafted in 2009, the face of the Lions franchise has played a combined 13 games and thrown for a little over 2800 yards while connecting on a total of 19 TD's. doesn't seem right for the future star of a once dismal team now on the rise. Stafford's problem has been staying on the field. In 3 games in 2010 he was on an excellent pace throwing for 6 TD's and only 1 int, but his frail bones wouldn't allow him to stay on the field. I see him taking the bull by the horns and going off this year. he's the wild card for that team and possibly the NFC Norris division in what could be a surprise year for the lowly lions.
The Fantasy Boyz love Stafford's style on and off the field